SOLV3D encompass™ (Encompass) is a web-based solution that empowers your data and provides an engaging common operating picture, easily accessible by all stakeholders.
With the ability to bring together geospatial datasets from many sources,  Encompass provides a wholistic view in which visualization and collaboration between team members is intuitive and easy, yet incredibly powerful.
The simple interface provides access using only a modern web browser. Encompass rapidly expands the participation from a limited set of users to an entire enterprise - barriers based on physical location or software expertise no longer apply.
Create Tags on Points of Interest
Through our Collection Discussion feature, drop 3D pins at points of interest to rapidly catalog or bookmark locations that need to be tracked or require associated information. Add conversation threads, upload documents, make annotations or connect to external systems - all to create a robust and detailed record of each point.
Measurements
Perform simple measurement functions in SceneView and AerialView to quickly determine rough estimates. Make notes, save and share these measurements with other users.
Off-site teams can make measurements to size up areas and determine positional fit for assets on-the-fly: anywhere, anytime.
Esri ArcGIS Enterprise Widget
The Esri widget for Encompass allows for easy integration and collaboration between Esri and your Point Cloud data.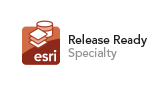 Link AutoCAD
The Encompass AutoDesk Plugin provides user the ability to navigate within the Encompass session to location objects within AutoDesk. As well users can push objects from AutoDesk into Encompass and send cross sections of Point Clouds into the drawing.